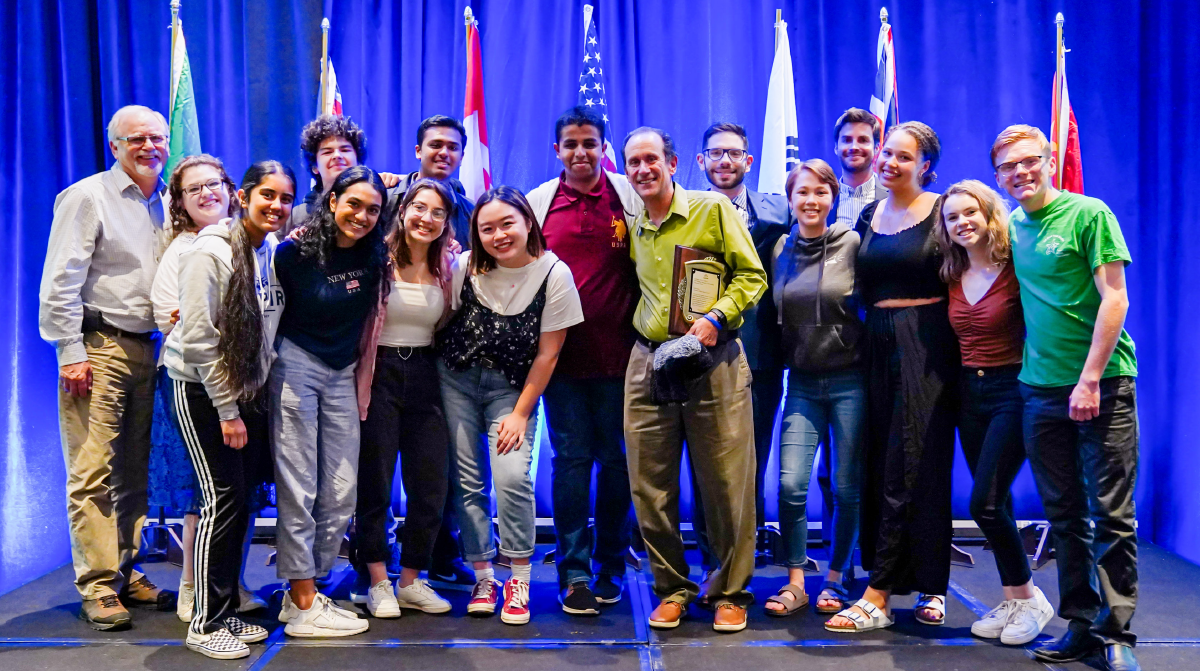 Phil Wilder Honored as 2019 William Hennessy Outstanding Educator
Empire surprises the long-time Moreau Catholic Coach with honor at Empire Atlanta
"In mock trial, the team doesn't compete against other people but rather competes with them." 
That is the message that Empire Mock Trial's 2019 Outstanding Educator Recipient, Phil Wilder, shares with his students before starting their mock trial season. It is a message of unity, and a lesson in civility, which frames how his students view their peers in the courtroom.
"Though he won't take credit for all that he has done, Mr. Wilder has a great impact on his students," said Roshni Sopariwalla, a graduate of Mr. Wilder's mock trial team who worked with Empire and Moreau Catholic High School to coordinate the presentation. 
"The Moreau community was thrilled that he was honored."
About the Award
The Award is named after William Hennessy, a retired teacher who has coached the William Floyd High School (NY) mock trial team for over three decades. Mr. Hennessy's teams have captured more state championships than any team in the history of New York State mock trial.
But that is not why the award, dedicated to Mr. Hennessy in 2013, was named after him. I's because of the values that Mr. Hennessy instills in his students. 
"He taught us to be respectful, appreciative, kind, and dedicated," said Emily Vigliotta, a four-year veteran of the William Floyd Mock Trial program.
"Whether we were lead attorneys or substitute witnesses, whether we went on to careers in law or not, I think it's safe to say that every student [of his]… has gone on to become a more dedicated, hard-working, team-oriented, and empathetic person," said Stephanie Suarez, class of 2003.
Over the past 6 years, the William Hennessy Outstanding Educator Award has been given to an educator who embodies Mr. Hennessy's spirit. 
This year, that special recipient is Mr. Wilder.
Mr. Wilder's Mock Trial Origins
Mr. Wilder is a part of the fabric and fiber of Moreau Catholic High School, where he has been on the faculty since 1981. Mention his name in the halls of the Hayward, California school, and you'll see faculty and students alike smile with glee and reverence. 
Mr. Wilder is known not only for his ability to teach but for his affable demeanor. His zest for life and love of people is infectious. 
"When I was in high school, my teammates and I had this running joke that Mr. Wilders' real name was Mr. Worldwide," recalls Moreau Catholic mock trial graduate Desiree Nunes. "Literally wherever he went, if that was to the other side of the Bay Area or even if it was to the other side of the country, Mr. Wilder would always manage to run into someone that he knew. If he didn't know anyone, he'd make friends in an instant."
Mr. Wilder started coaching the mock trial team approximately ten years ago. An experienced social studies teacher with a competitive streak (honed as a cross country coach), he quickly fell in love with the activity. And the students fell in love with him. 
"Mr. Wilder's dedication and passion are the pillars that hold the team together," says Tanishq Babel, a senior at Moreau Catholic. 
Mr. Wilder dedicates countless hours teaching his team how to draft statements and examinations, driving his students to competitions, and coordinating practice schedules and scrimmages.
His hard work has paid off with success in the courtroom. Under his leadership, Moreau Catholic won the 2016 Empire Atlanta competition. The team has also captured seven Alameda County Championships. 
Architect of Law Program 
Coaching a mock trial team was only the tip of the iceberg. With it, Mr. Wilder saw an opportunity to build a law program and foster a community that went well beyond the four walls of the (mock) courtroom. 
To that end, Mr. Wilder started a week-long summer camp for middle school students to help them learn about mock trial. 
He founded an invitational competition, so local teams would have the opportunity to compete in additional rounds of mock trial. He handles all of the coordination for the program, which includes recruiting attorneys and judges from the community to evaluate the mock trials. 
Additionally, Mr. Wilder also established an annual Law Day at the school, which he uses as a way to encourage alumni to give back to current Moreau students through volunteering and donating. Students showcase their talents in front of Moreau Mock Trial alumni, who then provide the students with feedback.
"Mr. Wilder's passion for education and mentorship inspires not only his former students but colleagues and members of the community to contribute to the development of the students inside and outside of the classroom," praises Moreau Coach Taylor Graham, an alum of Mr. Wilder's program who is now an attorney in San Francisco.
Each year, Mr. Wilder honors an outstanding alum for their support of the team, an annual tradition that carries with it great significance to Mr. Wilder. Moreau's generous alumni have made it possible for the mock trial program to build a  showcase for their trophies at school and for several Moreau teams to attend Empire competitions.
Alumni like Graham and Co-Coach Peter Borruso and are just two of the many people who have returned to Moreau to work with and support the students on the team, offering them the unique opportunity to learn directly from people in the legal profession. 
The Wilder Way
Among the many connections Mr. Wilder has forged over the years, it seems as though everyone has a Phil Wilder story to tell. Each story shows not only Mr. Wilder's positive outlook, but also his genuine care for others.
"In 2017, Phil (Mr. Wilder) got stuck in an elevator at the federal court with a group of high school students for about 45 minutes," recalls Empire's Executive Director, Justin Matarrese. "When he emerged, he immediately came up to me and asked, 'Are you okay?' as if I was the person inconvenienced! That is just the type of person he is. He is always thinking about others." 
Students who were stuck alongside Mr. Wilder remember how he passed out water bottles and snacks that he happened to be carrying in his backpack. He made his students feel at ease while they patiently waited for the fire department to help release them. After they all got out of the elevator safely, Mr. Wilder thanked each of the firefighters individually.
"At our trials, we'd see Mr. Wilder befriend everybody, treating them with kindness and respect regardless of whether we win or lose," added Sopariwalla. "He is a great role model on how to be a good person."
Mr. Wilder brings that same compassion to teaching, where he invests in the hearts and minds of his students, inspiring them to reach for the stars.
"He always saw the potential in me that I never really saw in myself," says junior Amber Loza. "I feel like that's something Mr. Wilder does with everybody he meets."
The Dedication 
On September 22, at the Closing Ceremony of the 2019 Empire Atlanta competition, Mr. Wilder was presented with the Outstanding Educator award in a surprise presentation. Students and friends of the Moreau mock trial program, who had nominated Mr. Wilder for the award, prepared a video in his honor, where they praised his many talents and years of hard work for the team. His students were present to cheer him on as he accepted the award from Matarrese onstage, as he received a standing ovation. 
"What can I say?!?," said Mr. Wilder, reflecting on the moment. "This is the most humbling honor, to stand and receive the award that is shared with, and a result of, all those from across the nation and the planet who I have had the greatest honor to work with and learn from."
"I was stunned."
"Mr. Wilder reminds me so much of Mr. Hennessy," said Matarrese. "He is everything that you want an educator to be: kind, humble, inspiring, passionate."
Congratulations to our 2019 William Hennessy Outstanding Educator Recipient: Phil Wilder.
Watch the tribute video below.