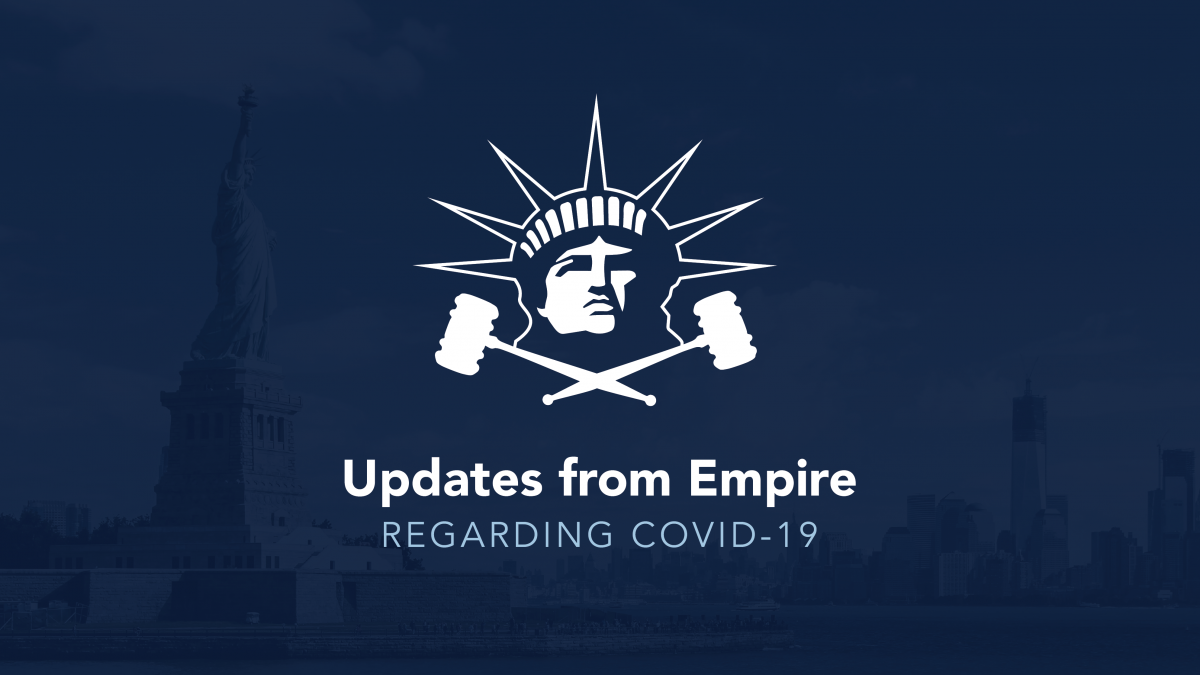 Updates from Empire: Regarding COVID-19
Dear Empire Family:
I am writing today to let you know I am thinking about you and your family during this unprecedented time, and to share an update on the 2020 Empire season. 
As COVID-19 has spread rapidly, the Empire Family has been in my heart and on my mind. We live on four continents, but our lives have all been touched by this. Has there ever been a time where our interconnectedness has felt so salient?
Empire had its start in my hometown of New York City, which is suffering so much at the moment. I worry for my friends and family there, especially my 90-year-old grandmother who lives in Brooklyn and my uncle, who was recently diagnosed with the virus.
I have been trying as best I can to carry on with the work of the organization from home. But I can't stop thinking about those on the front lines, like the doctors and nurses caring for the sick, the grocery store workers keeping us fed, and the police and fire departments keeping us safe, to name a few. Every essential worker deserves our love and gratitude.
I also can't stop thinking about those financially impacted by the pandemic, especially our hotel partners. We work hand-in-hand with the staff of the Embassy Suites Centennial Park, Hilton Chicago, New York Hilton Midtown and the Parc 55. Their staff treats us like family and they, in turn, are a part of our Family. Our heart goes out to them during this trying time.
---

Impact on Mock Trial
I have waited several weeks to write because, in the grand scheme of what's going on in the world right now, we can acknowledge that mock trial is not a priority.
With that said, we share the immense disappointment that our mock trial community feels in the wake of mock trial competitions across the globe being cancelled. So many of you were preparing directs and crosses for trials that never happened. Excited seniors had the final trials of their high school and college careers taken away. Heartbroken tournament organizers made the excruciating decision to cancel tournaments months—sometimes years—in the making; including our friends at the National High School Mock Trial Competition and the American Mock Trial Association's National Tournament.
There are no words anyone can offer to replace those memories.
What I will say is that I am proud of our community. There is something inspiring that comes from watching a group of people, especially young people, sacrifice for a greater good. Even before federal directives were issued and stay-at-home orders decreed, 'mockers' across the globe made the decision to stay at home for the sake of their fellow global citizens. Ultimately, that spirit of doing good for others will remain with us after we make it through this pandemic. That spirit will make each of us stronger and more compassionate. It will make us better students, teachers or lawyers. That spirit will make us better citizens.
It will also ensure that next time we hear the words, "May it please the Court," we'll have a new appreciation for how lucky we are to be involved in this activity. 
---

Impact on 2020 Empire Season
I have received kind notes from many of you, checking in on my well-being as well as our team's. On behalf of all of us here at Empire, thank you.
We have also received lots of inquiries about the status of our 2020 programs.
As of this writing, we have not altered our schedule for the upcoming season: Empire Atlanta is September 25-28, Empire New York is October 9-12, and Empire Chicago is October 30 – November 2. Could this change? Of course. Our programs require months of planning, even though they are held in the fall (i.e. autumn). That means we cannot decide on September 1, for example, whether or not to host our competitions. We will likely decide on or about July 1 whether to make any changes to our schedule.
In light of the pandemic, we have decided to implement the following changes for this season:
Changes to our Application & Registration Timeline.

Here are some new dates for you to take note of (subject to change, of course):

May 4

– Applications open

June 1

–

Scholarship applications due

June 22 – Deadline to submit applications


We will try our best to accommodate any team that needs an application extension because of COVID-19; however, all requests must be received prior to June 22.

July 3 – Admissions decisions emailed


You won't receive a season acceptance as you did in previous years, just an admission to a particular competition.

July 10 – Case released and registration deposit due


You won't be able to access the case without paying your registration deposit!
Offer Application Fee Deferral. Any school that needs can defer their $50 application fee. It can be paid as a part of the registration deposit.

Invite Seniors Graduating in 2020 to Compete in the 2020 Season.

We know there is nothing we can do to make up for a senior not getting the chance to participate in their final state or national competition. But maybe it would help if they had the chance to compete one final time with their teammates? We've floated the idea to some coaches thus far and some are excited by the possibility, while others don't think it would be helpful to them. Either way, we leave that decision up to you! If you have a graduating senior who wants to work with their teammates over the summer months, and take a weekend out of the fall college semester to compete at Empire, they are welcome to join us!

Note: This is a one-time exemption.


Make Up for Lost Time. 

While we always value diversity in our fields, we will strongly consider hosting the same mock trial team (i.e. the same group of students) at two competitions (but not three) should their coach make a compelling case for the Empire Admissions Committee to do so.
To help fill the mock trial void in your hearts, we plan to offer our Empire Family the following:
Free Access to Select Championship Round videos.

Over the next six weeks, we will release videos of prior Empire Championship Rounds with a description of the case being litigated to watch for free during that week only. Either take a trip down memory lane or experience a new mock trial case. The first set of videos to be released on Friday, April 10.

Mock Trial Webinar.

We want to host a webinar for you and decided

by

you! What topic do you want to see? Direct? Cross? Opening? Closing? Hearsay? Character evidence? Take our poll on Instagram or

click here

to send us your answers! Please submit your ideas by Sunday, April 12th.

Empirion.

Empirion is managing as well as can be expected during this global crisis. Empirial residents are staying at home and social distancing, following the Governor's stay-at-home-order. What would you like to know about the Sapphire State? Ask us your questions and stay tuned for more updates on Instagram!
---
On behalf of the entire Empire Family, thank you for taking a few minutes out of your day to read this. Together, let's keep being attentive and considerate, patient and positive, supportive and loving.
If you want to talk to us while you are social distancing, or have any questions, please do not hesitate to reach out.
Stay safe.
Best,